It's easier being invisible, blending in, than it is to stand out, to be noticed. Not in that it takes effort to be noticed, but fielding the attention. Especially if you're not used to it.
Recently I've been wearing dresses more often and jeans and tees less. I've been putting effort into styling my hair and finding attractive shoes. I haven't suddenly developed a rare strain of viral vanity; I want to give talks. I want to stand up in front of crowds and be at ease while commanding their attention. Part of it is, of course, knowing my material, but part of it is getting used to being looked at.
Stretch and Twirl, and Stretch
I'm pushing at this particular emotional boundary from a half dozen directions, including practicing awareness of people being aware of me. I've been gathering dresses and skirts to replace my jeans. And in the last couple of weeks, I've been wearing them on a regular basis.
When you walk through the farmers market in jeans and a tee, no one takes note. When you wear a red halter dress, heads literally turn. A pretty dress says "Look at me" and people do. It's unnerving at first, but then comes a choice. You can pretend you don't see, or you can smile and say hello. Admittedly, some days it's a coin toss as to which I choose.
Presence, it's a Gift
It's not about being pretty, it's about being present. It's about saying "I am worth noticing". And there's nothing easy about it. At least, not for me, not yet. But, the practice is worth the stress, because I'd rather be slightly uncomfortable now and rock being on stage later. Because, the thing is, I am worth noticing. I am worth paying attention to, and that's what I want to radiate from the stage.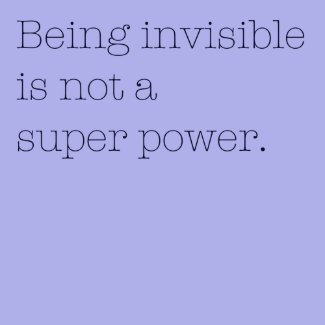 If you like this thought, come visit the SocialCaterpillar store.
And, yes some people are douches. Some people shout, what I think are meant to be appreciative comments, though I can't tell for sure. It all sounds like "Heyschnuffleschnufflehoney!" when they're in a car and I'm on the sidewalk. God love 'em, they don't know any better. If they did they'd enunciate. Or pull over… Come to think of it, I think I'm glad they don't know any better.
And yes, some people scowl, but their pain is not something I can fix by blending in. And, yes, I do get overwhelmed, and go home and put on pjs and drink copious quantities of hot tea. Because I can walk away whenever I choose.
But, for now, I choose to make an effort to be seen and be comfortable with it. Because each little stretch makes me a little more flexible, both in body and in spirit.
Have you been hiding or making yourself noticeable recently?
Looking to stretch your comfort zone in tiny ways and pick up some resource recommendations? Sign up for

Inching Along

, and every other week I'll send you one small (possibly even fun) challenge that you can easily accomplish plus other nuggets that I find.
In the comments:
We're being open here, sharing and saying things we don't always say out loud. What helps: Sharing your stories and Ideas. Cheering and telling what works/worked for you. What hurts: shoulds, harshness, and such. (I used to teach first grade, I can't help it.)