I've been seeing a lot of pins on Pinterest with messages like "You Deserve Everything You Want" and "You Deserve to Be Happy" and every time I see one, I make a face and click away.
You see, as much as I think you are amazing and precious and inspiring, you really only deserve one thing, we all do. You don't deserve what you want. You don't even deserve to go after what you want. You deserve the *opportunity* to go after what ever you want.
A Learning Curve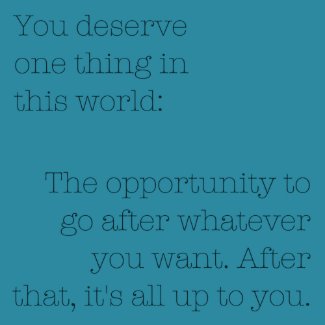 If you like this thought, take a peek at the
Social Caterpillar store
Because even though it's worth it, going after what you want is often complicated and difficult, if it wasn't, you'd probably already have it. And sometimes for whatever reason you have to choose between opportunities. And, on occasion, even though you deserve it, the opportunity has passed or never existed.
People who have a positive outlook find more opportunities than those who have a negative or neutral outlook. And the  good news: you can learn to have a positive outlook.
When something crappy happens, look for any good sides, even if it's just that whatever happened wasn't worse.
Watch what you say. The more you say things like "it's just my luck", "this always happens to me", and "people suck", the more you reinforce those beliefs.
Remember that each event is individual, just because you got splashed by a mud puddle, doesn't mean that the rest of the day is ruined.
Look for the grey, you are not perfect, no one else is either. And the converse is true, you're not all bad and neither is anyone else.
Try laughing when things go wrong. Being irritated doesn't make whatever it is any better, but laughing at the absurdity can lessen your stress.
Take a look at the company you keep. Are your friends positive people?
The Tiniest of Baby Steps
And you can just start with noticing, you don't have to change anything right now. Or ever if you don't want to, but if you don't want to make some changes, this may not be the blog for you.
Fair warning: making these changes will change how you see life and the people around you. I love my life and see so many options and opportunities around me. But, earlier this year, I had to leave a party because every time I asked someone how they were doing, they answers were all the same: "Surviving". While it's certainly better than the alternative, just surviving is so far below my line of sight, I really didn't know how to respond. I still don't. I want more and I want to be around people who want more.
So tell me, what opportunity are you looking for right now?
Want to receive small comfort zone stretches and resource recommendations every couple of weeks? Sign up for

Inching Along

and I'll send you one small (possibly even fun) challenge that you can easily accomplish plus other nuggets that I find.
In the comments:
We're being open here, sharing and saying things we don't always say out loud. What helps: Sharing your stories and Ideas. Cheering and telling what works/worked for you. What hurts: shoulds, harshness, and such. (I used to teach first grade, I can't help it.)