When you live with Fear, it's your constant companion, reminding you of its presence, dominating your thoughts and actions. The same with living in Fear, you make each choice based on what you're afraid of, constantly and consistently giving in to the Fear, feeding it's power over you.
When you live within Fear, you acknowledge the Fear, and go towards it, saying 'Yes, I am afraid, let's see what happens anyway.' Living within Fear is like living within a home. Your home protects you, but you still go outside, sometimes far away. Your Fear protects you too, in fact that's its real job, and you can go beyond the Fear, as well.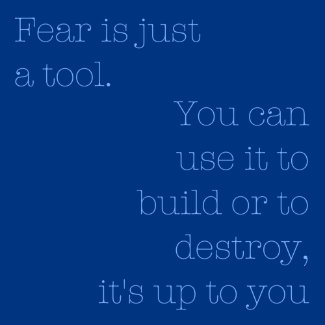 If you like this thought, come visit the 
SocialCaterpillar
 store.
Comfort not Conquering 
We don't really conquer fear, if we were to be entirely fearless, we'd probably be dead pretty quickly too. Fear has it's uses, it's when it dominates our choices that it becomes a problem. And you don't break through fear anymore than you break through a wall by rushing at it headlong. You're smarter than that, you look for a door.
Fear has doors. No really, I swear, think about it. Most big fears can be broken down into smaller bits. If I were to find a way to take the stage tomorrow, there's an incredibly good chance that my knees would knock, I'd forget my name, and quietly back out the hall, turning and running for all I was worth.
And Behind Door Number Two
Of course, instead of throwing myself against that wall, I've been looking for a door. I'm taking an improv class, to improve my ability to think on my feet. I keep planing go to Toastmasters to gradually get speaking practice in. I can host webinars and classes, increasing group size with each new class. Each time I'm going through a Fear door, going outside, knowing that I can go back home.
Once you've gone through a Fear door you can start to build a new room there, one with it's own door, stretching the boundaries of your Fear, changing your relationship with Fear. Life is rarely an all or nothing game. You get where you're going in stages and, in fact, you get to choose the steps.
What are you working towards, what's your next step?
Want to receive small comfort zone stretches and resource recommendations every couple of weeks? Sign up for

Inching Along

and I'll send you one small (possibly even fun) challenge that you can easily accomplish plus other nuggets that I find.
In the comments:
We're being open here, sharing and saying things we don't always say out loud. What helps: Sharing your stories and Ideas. Cheering and telling what works/worked for you. What hurts: shoulds, harshness, and such. (I used to teach first grade, I can't help it.)